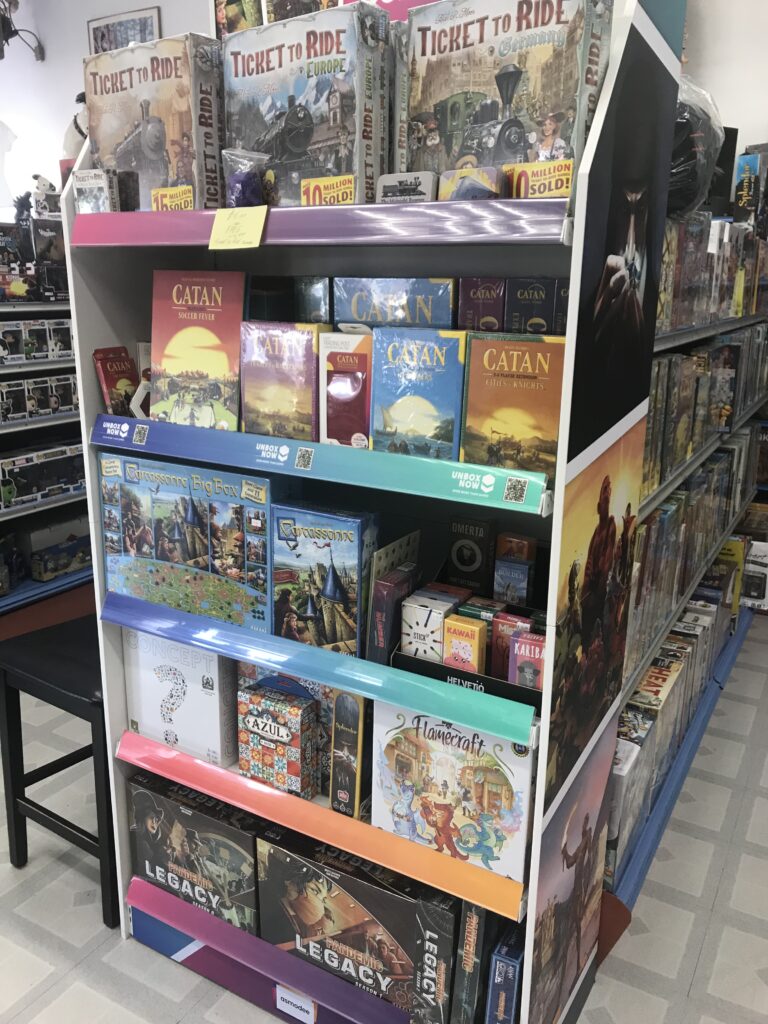 Board Games! All the big names are here– Ticket to Ride, Catan, Carcassonne, Pandemic, and Azul, just to get started! Plus all the hard-to-find expansions and accessories!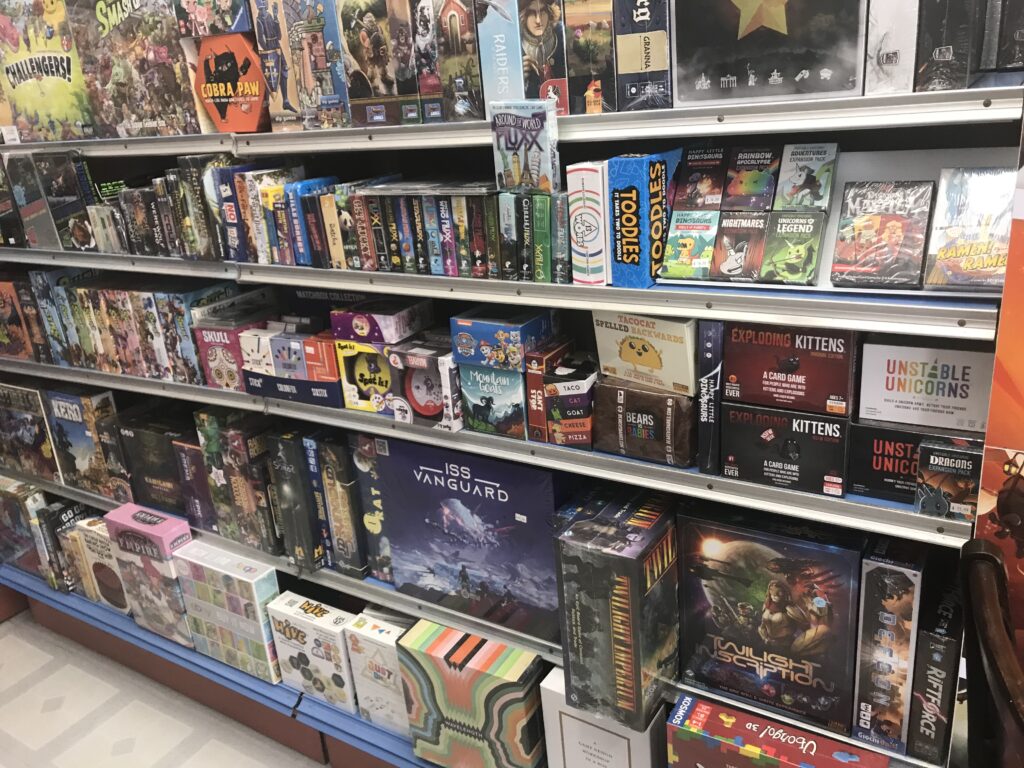 We have all the small and big name board game publishers and the latest offerings! Axis & Allies to Zombicide! Hive- Toodles- Twilight Inscription- Defcon- Riftforce- Beyond the Sun- Ramen Fury- The Number- Just One- Spot It- Ubongo!- Skull- Russian Rails- Tacocat Spelled Backwards- First Rat- Meadow- Wavelength- Ramen! Ramen!- Taco Cat Goat Cheese Pizza…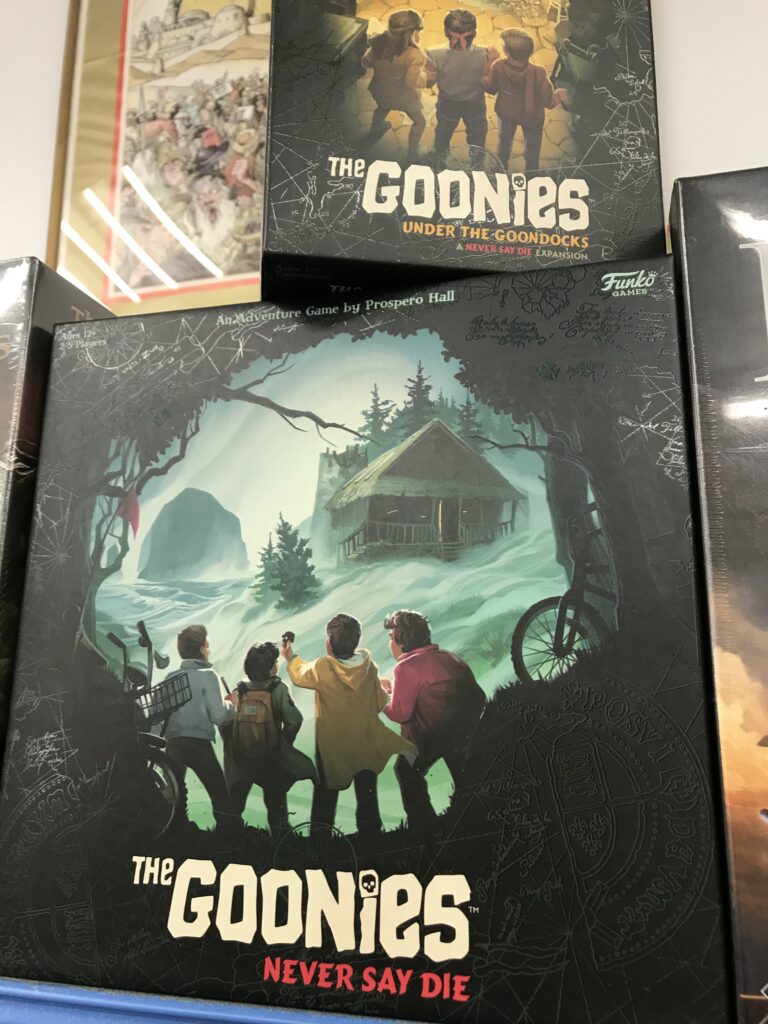 Licensed board games from Dune to Star Wars! Hellboy! G.I. Joe! Power Rangers! Jurassic Park! Lots of Marvel Games! There's at least one Wizard of OZ game, and a Godzilla game or two!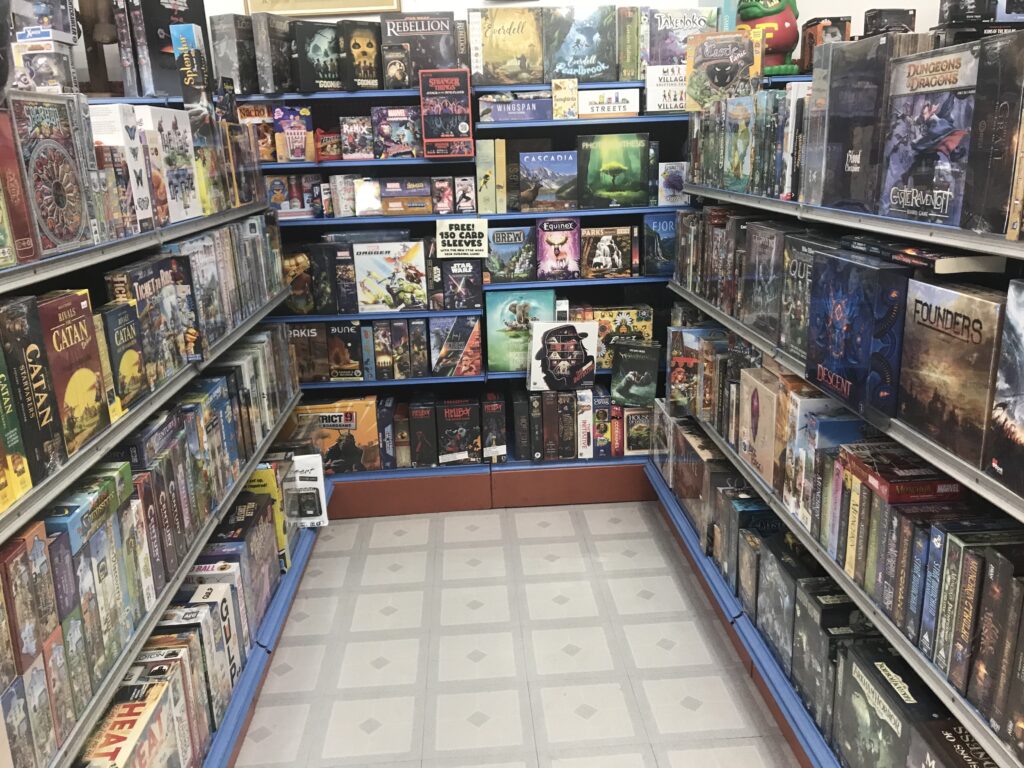 Heat- Cascadia- Gloomhaven- Descent- Twilight Imperium- Dungeon!- Munchkin- Century (at least six versions!)- Sagrada- Concept- Camel Up!- Fluxx- Small World- Patchwork- Isle of Cats- Calico- King of Tokyo- Gizmos- Hamlet- ISS Vanguard- Marvel Champions- Unlock- Canvas-Jaipur- Jamaica- Rising Sun- Castle Ravenloft- Spirit Island- Flamecraft- Kingswood- The Great British Baking Show- Exploding Kittens- Unstable Unicorns- Citadels- Castle Panic- Dice Forge- Dice Miner- Mysterium- Takenoko- Bargain Quest- Sheriff of Nottingham- Railroad Ink- Rolling Realms- Great Western Trail- Caverna- Feast for Odin- Hansa Teutonica- Boss Monster- Everdell- Roller Coaster Rush- Brass- Brass Birmingham- Zombie Princess- Mandala- Raccoon Robbers- Marvel D.A.G.G.E.R.- Mountain Goats- Can't Stop! (Regular, Mini, and the Original!)- Blood on the Clocktower- Werewolf- Coup- Photosynthesis- Quacks of Quedlinburg- Villagers- Streets- Last Friday- Mice & Mystics- Smash Up!- Mansions of Madness- Fruit Punch- Seven Wonders- Barenpark- Between Two Castles of Mad King Ludwig– Wingspan- Dixit- Fjords- Bears vs. Babies- Thunderstone Quest- Wonder Book- Sakura Heroes- Formula D- Flamme Rouge- Memoir '44- and dozens more!
You can come and play a game in our Gaming area, with dozens of games you can try out or just take a closer look at.